AAAS: A pyrotechnic display
I was in my hotel room at 6:30 this evening, going over my notes from an interview a half hour earlier, when I heard a racket outside. I went to the window and stood transfixed. A steady stream of fireworks was shooting up from the banks of the Chicago River, just beneath my window.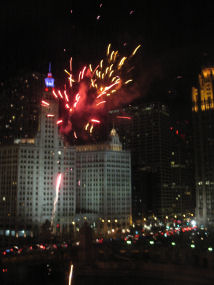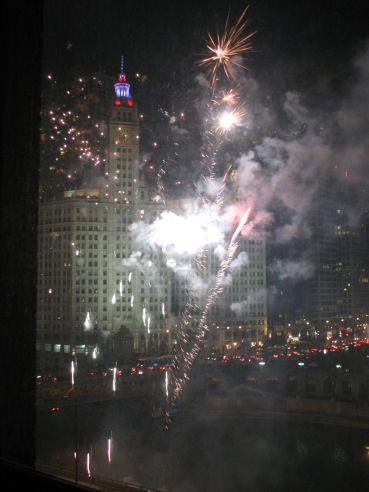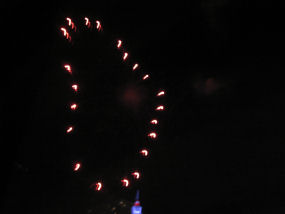 Loving this part of scenic downtown, I had asked for a river view when I checked in. And I got a gorgeous vista — initially of the riveting ice-clogged river below. Straight ahead, the Tribune Tower. On the left, the famed Wrigley Building. Between the two architectural landmarks, a steady stream of lights from traffic crossing the river on the Michigan Ave. bridge.
As blue, green, and curly white fireworks flashed in front of me, I reached for my camera and caught shots of a mist of glowing golden snowflakes. And more of those blinding white splashed of light, each followed a half-second later by explosive canon sounds.
Science News headlines, in your inbox
Headlines and summaries of the latest Science News articles, delivered to your email inbox every Thursday.
Thank you for signing up!
There was a problem signing you up.
So what was going on? My first thought: Maybe they're celebrating the American Association for the Advancement of Science meeting, headquartered in this hotel.
Then I caught a glimpse of the bouquet of fringed tulips, snapdragons, lilies, and other spring flowers on the table sitting next to the window. Oh yeah . . . today's my anniversary. So they must be celebrating St. Valentine out there. At just about that point, the pyrotechnics turned red, shot especially high into the sky, and formed the outline of a heart.
Yep. It was for Valentine's Day. And I, for one, loved every minute of the glorious show.