Ancient DNA shakes up the elephant family tree
Straight-tusked elephants were more closely related to African, not Asian, species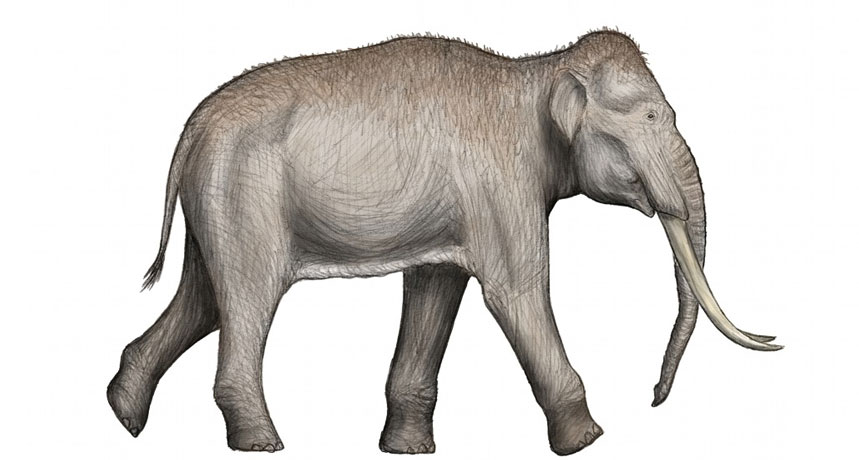 Fossil DNA may be rewriting the history of elephant evolution.
The first genetic analysis of DNA from fossils of straight-tusked elephants reveals that the extinct animals most closely resembled modern African forest elephants. This suggests that straight-tusked elephants were part of the African, not Asian, elephant lineage, scientists report online June 6 in eLife.
Straight-tusked elephants roamed Europe and Asia until about 30,000 years ago. Much like modern Asian elephants, they sported high foreheads and double-domed skulls. These features convinced scientists for decades that straight-tusked and Asian elephants were sister species, says Adrian Lister, a paleobiologist at the Natural History Museum in London who was not involved in the study.
For the new study, researchers extracted and decoded DNA from the bones of four straight-tusked elephants found in Germany. The fossils ranged from around 120,000 to 240,000 years old. The genetic material in most fossils more than 100,000 years old is too decayed to analyze. But the elephant fossils were unearthed in a lake basin and a quarry, where the bones would have been quickly covered with sediment that preserved them, says study author Michael Hofreiter of the University of Potsdam in Germany.
Hofreiter's team compared the ancient animals' DNA with the genomes of the three living elephant species — Asian, African savanna and African forest — and found that straight-tusked genetics were most similar to African forest elephants.
When the researchers told elephant experts what they'd found, "Everybody was like, 'This can't possibly be true!'" says study coauthor Beth Shapiro of the University of California, Santa Cruz. "Then it gradually became, 'Oh yeah, I see.… The way we've been thinking about this is wrong.'"
If straight-tusked elephants were closely related to African forest elephants, then the African lineage wasn't confined to Africa — where all elephant species originated — as paleontologists previously thought. It also raises questions about why straight-tusked elephants bore so little resemblance to today's African elephants, which have low foreheads and single-domed skulls.
Story continues after graphic
Subscribe to Science News
Get great science journalism, from the most trusted source, delivered to your doorstep.
Family tree
This tree shows a revision to how scientists think straight-tusked elephants fit into elephant evolution: Straight-tusked elephants shared the most common ancestors with African forest elephants, rather than Asian elephants.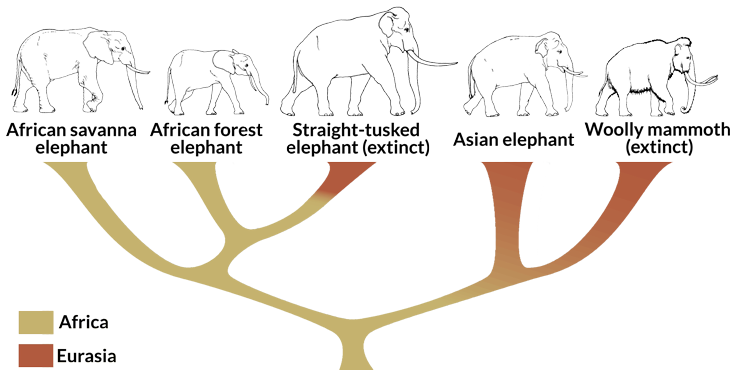 Accounting for this new finding may not be as simple as moving one branch on the elephant family tree, Lister says. It's possible that straight-tusked elephants really were a sister species of Asian elephants, but they exhibit genetic similarities to African forest elephants from interbreeding before the straight-tusked species left Africa.
It's also possible that a common ancestor of Asian, African and straight-tusked elephants had particular genetic traits that were, for some reason, only retained by African and straight-tusked elephants, he says.
Lister and colleagues are now reexamining data on straight-tusked skeletons to reconcile the species' skeletal features with the new information on their DNA. "I will feel most comfortable if we can understand these genetic relationships in terms of the [physical] differences between all these species," he says. "Then we'll have a complete story."
---
Editor's note: This story was updated June 14, 2017, to remove the suggestion that the slope of the spine is a distinguishing characteristic of straight-tusked and Asian elephants.