'Machines That Think' predicts the future of artificial intelligence
A new book explores how AI may change people's lives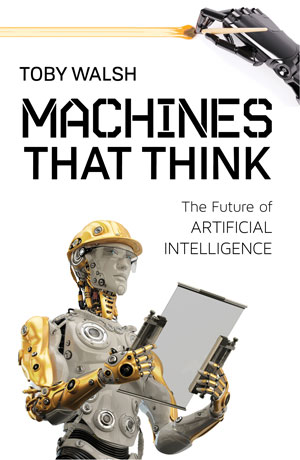 Machines That Think
Toby Walsh
Prometheus Books, $16
Movies and other media are full of mixed messages about the risks and rewards of building machines with minds of their own. For every manipulative automaton like Ex Machina's Ava (SN: 5/16/15, p. 26), there's a helpful Star Wars droid. And while some tech titans such as Elon Musk warn of the threats artificial intelligence presents, others, including Mark Zuckerberg, dismiss the doomsayers.
AI researcher Toby Walsh's Machines That Think is for anyone who has heard the hype and is seeking a critical assessment of what the technology can do — and what it might do in the future. Walsh's conversational style is welcoming to nonexperts while his endnotes point readers to opportunities for deeper dives into specific aspects of AI.
Science News headlines, in your inbox
Headlines and summaries of the latest Science News articles, delivered to your email inbox every Thursday.
Thank you for signing up!
There was a problem signing you up.
Walsh begins with a history of AI, from Aristotle's foundation of formal logic to modern facial-recognition systems. Excerpts from computer-composed poetry and tales of computers trouncing humans at strategy games (SN: 11/11/17, p. 13) are a testament to how far AI has come. But Walsh also highlights weaknesses, such as machine-learning algorithms' reliance on so much data to master a single task.
This 30,000-foot view of AI research packs a lot of history, as well as philosophical and technical explanation. Walsh personalizes the account with stories of his own programming experiences, anecdotes about AI in daily life — like his daughter's use of Siri — and his absolute, unapologetic love of puns.
Later in the book, Walsh speculates about technical hurdles that may curb further AI development and legal limits that society may want to impose. He also explores the societal impact that increasingly intelligent computers may have.
Subscribe to Science News
Get great science journalism, from the most trusted source, delivered to your doorstep.
For instance, Walsh evaluates how likely various jobs are to be outsourced to AI. Some occupations, like journalist, will almost certainly be automated, he argues. Others, like oral surgeon, are probably safe. For future job security, Walsh recommends pursuing careers that require programming acumen, emotional intelligence or creativity.
AI also has the potential to revolutionize warfare. "Like Moore's law, we are likely to see exponential growth in the capabilities of autonomous weapons," Walsh writes. "I have named this 'Schwarzenegger's law' to remind us of where it will end." Walsh isn't resigned to a Terminator-like future, though. If governments ban killer robots and arms developers use automation to enhance defensive equipment, he believes military AI could actually save many lives.
In fact, Walsh argues, all aspects of AI's future impacts are in our hands. "Artificial intelligence can lead us down many different paths, some good and some bad," he writes. "Society must choose which path to take."
Buy Machines That Think from Amazon.com. Science News is a participant in the Amazon Services LLC Associates Program. Please see our FAQ for more details.