This self-driving car could one day take you on a real road trip
A new autonomous navigation system uses laser sensors to 'see' where it's going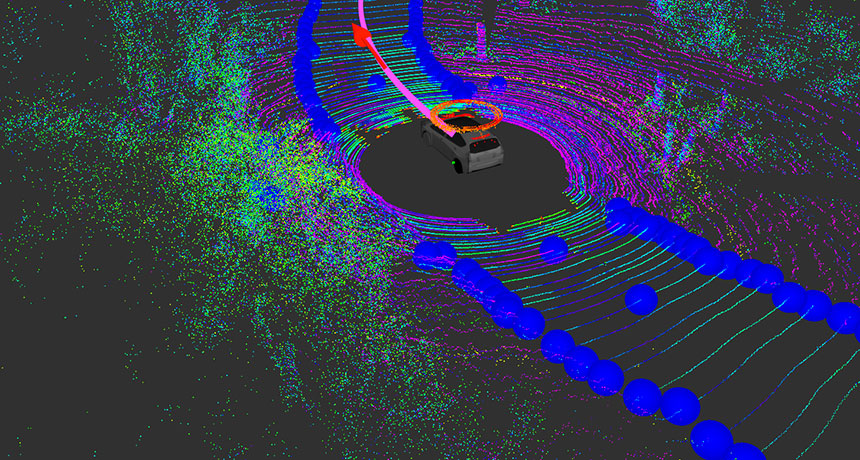 A new kind of navigation system could help self-driving cars take the road less traveled.
Most autonomous vehicles test-driving in cities navigate using 3-D maps marking every curbside and off-ramp with almost centimeter-level precision (SN Online: 11/21/17). But there are millions of miles of open road that tech companies aren't likely to plot in such detail any time soon.
Researchers now have developed a new autonomous navigation system that guides vehicles without such high-res maps, according to research being presented May 22 at the IEEE International Conference on Robotics and Automation in Brisbane, Australia. Cars equipped with this tech could hit the road for excursions off the beaten path.
The navigation system charts a course down unfamiliar roads much like a human driver would — by continually scanning its surroundings, albeit with a laser sensor, to gauge how close it is to the edges of the road. Meanwhile, the car also follows a tool akin to a smartphone map app that provides GPS directions to its destination, as well as information about the rules of the road — like speed limits and the positions of stoplights — along the car's journey.
This system assumes that a car has a clear path down the road, but it could be paired with other existing algorithms that use laser sensing to detect in-road obstacles, like other vehicles or pedestrians, to navigate more heavily trafficked roadways, says study coauthor Teddy Ort, a roboticist at MIT.
Ort and colleagues test-drove a car equipped with this navigation system on a one-lane road winding through a forest in Devens, Mass. The vehicle slowly cruised along a one-kilometer stretch without requiring any human intervention to keep it on the right track. The researchers plan to build a version of this system that can spot lane markings painted on streets, so that the car can drive on more than one-way roads, Ort says.
Subscribe to Science News
Get great science journalism, from the most trusted source, delivered to your doorstep.
The technology may be useful for future self-driving cars on cross-country road trips, though such vehicles would probably still use meticulous 3-D maps to weave through city traffic, says Raghvendra Cowlagi, an aerospace engineer at Worcester Polytechnic Institute in Massachusetts who wasn't involved in the work.
Self-driving cars with this navigation system may also need other kinds of sensors to work in different conditions, says Alexander Wyglinski, an electrical and computer engineer also at Worcester Polytechnic Institute not involved in the study. Since laser sensors don't work well in rain or snow, for example, these cars might need additional imaging technologies to drive safely in inclement weather (SN: 12/24/16, p. 34).