Acrylamide—From Spuds to Gingerbread
Just in time for the holiday season, the Bavarian Ministry of Health reports finding extremely high concentrations of acrylamide—a chemical that causes cancer in rats—in gingerbread.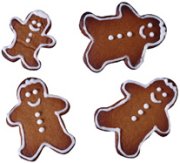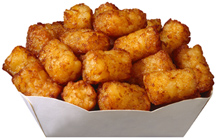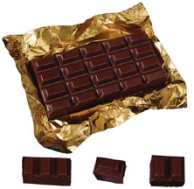 Over the past 8 months, food chemists have been scrambling to understand why high-temperature cooking of starches creates acrylamide, which has been long used industrially as a building block of certain plastics.
Science News headlines, in your inbox
Headlines and summaries of the latest Science News articles, delivered to your email inbox every Thursday.
Thank you for signing up!
There was a problem signing you up.
The new values recorded for gingerbread ranged widely—from 80 to 1,374 parts per billion, observes Knut Engelbrecht, a spokesman for the regional German ministry. "We suppose, this may be caused by different methods of preparing the products," he told Science News Online. "But I regret to confess: There are no certain reasons why there are those differences."
"While noting that the acrylamide levels in gingerbread are high, researchers in Bavaria cautioned against panic," according to an account in the Dec. 2 Deutsche Presse-Agentur. Indeed, the German wire service reported Engelbrecht as saying, "People should not eat large quantities of gingerbread"—a seasonal favorite—but not just because of the new acrylamide data. Gingerbread is not only fattening, he notes, but also rich in sugar and cholesterol.
Subscribe to Science News
Get great science journalism, from the most trusted source, delivered to your doorstep.
Although the risks that acrylamide in food poses to diners remain unknown, analytical scientists in several countries have nonetheless begun testing all sorts of foods to evaluate likely dietary exposures.
On Dec. 4, the U.S. Food and Drug Administration posted data from its survey of acrylamide concentrations in U.S. foods—perhaps the largest survey for this carcinogen to date. Roasted almonds, organic baby food, name brand potato chips, and most of the other commercially prepared foods in the FDA survey contained measurable amounts of acrylamide. However, FDA deliberately focused on foods considered likely to develop the contaminant.
In releasing its findings, FDA cautioned that the values "are exploratory and do now show the [full] distribution of acrylamide in food. They cover a limited number of food categories, products, and brands [and] generally do not address unit-to-unit variation or lot-to-lot variation."
That said, FDA chemists did find that substantial batch-to-batch variation sometimes occurred. For instance, the agency's measurements show that potato chips of the same brand and produced in the same plant can develop widely varying concentrations of the contaminant. This also proved true of French fries that came from separate branches of the same fast-food chain. These results introduce a new wrinkle in attempts to calculate typical human exposures.
Oh, those spuds
FDA tested 53 samples of french fries. Research elsewhere had identified french fries as likely to develop fairly high concentrations of acrylamide. In the new survey, this food again had substantial acrylamide in every sample. However, the detected concentrations varied several-fold, even within a restaurant chain where starting ingredients and frying times tend to be consistent and regimented.
The FDA tested samples of fries at two to four locations of each of six fast-food chains. While the highest detected acrylamide concentration, 1,030 ppb, was nine times the lowest, 117 ppb, within a single chain the concentrations varied by a factors of 1.6 to 3.4. Popeyes' fries had both the greatest variation and the highest concentration detected.
Acrylamide concentrations (ppb) in french fries at different locations of chain restaurants (FDA preliminary data).
Burger King
197
220
369
Checkers
257
407
Fuddruckers
346
452
KFC
117
162
270
313
McDonald's
155
193
245
270
328
326
497
Popeyes
301
484
610
1030
Wendy's
157
169
254
260
302
Think baking up store-bought frozen fries is better? Think again.
Unbaked fries from six brands, representing 13 distinct products ranged from 20 to 218 ppb acrylamide. Once they were baked according to the manufacturers' instructions, however, carcinogen concentrations of the lowest two spiked from 20 ppb to 119 ppb and from 21 ppb to 438 ppb.
Overall, FDA tested eight separate Ore Ida french fry products—from crinkle-cuts and "Zesties" to golden twirls and tater tots. Invariably, once FDA chemists cooked them up, the potato products' acrylamide concentrations soared—to sometimes as much as 616 ppb or even 1,098 ppb. Two other brands, Lamb Weston Island Valley fajita fries and Linden Farms "shoestring" style also developed similarly high acrylamide concentrations—1,325 and 1,036 ppb, respectively.
FDA also quantified acrylamide in 40 samples of potato chips, representing 15 distinct products. As with the fries, the carcinogen concentrations varied dramatically—from a low of 117 ppb in Utz brand Home Style Kettle-Cooked chips to a high of 1,265 in Kettle Chips brand Lightly Salted Natural Gourmet chips.
Especially intriguing, tests of several packages of the same product showed significant variation can occur from one production run to another. For instance, FDA chemists tested 25 separate packages of Lay's Classic Potato Chips produced on eight different days between Oct. 15 and Dec. 10, 2001. Although acrylamide concentrations in those produced on a given day didn't tend to vary much, between days they showed big variations—from an average of just 274 ppb on Nov. 26 to an average of 482 ppb on Dec. 10.
The dubious distinction of most contaminated chips fell to Route 11 Sweet Potato Chips. A small-time "boutique" producer in the Washington, D.C., area, the company advertises: "Everything we make is hand cooked. This is much more labor intensive than the continuous frying methods of the big boys, but the payoff in creating a product that is truly delicious is worth all the effort." In the sample tested by FDA, the chips contained a whopping 2,762 ppb acrylamide. For what it's worth, the taste of this particular sweet-potato product has always made it my favorite.
Beyond taters. . .
Although acrylamide concentrations in most baby foods tended to be low or undetectable, one lot of a major brand of organic sweet potatoes for babies contained 62 parts per billion and a second lot contained 121 ppb.
Of course, as other analytical chemists have previously reported, potatoes and sweet potatoes are far from the only foods to develop acrylamide during heating. For instance, fish fillets developed 30 ppb acrylamide during baking, FDA found.
Pepperidge Farm Dark Pump pumpernickel bread had 34 ppb, about the same amount, until it was toasted. Then acrylamide concentrations climbed 10-fold. Similarly, although Sara Lee's Plain Mini Bagels started out with 58 ppb acrylamide, levels jumped to 343 ppb with toasting.
Perhaps reflecting recipes that call for successively more baking, acrylamide appeared in Pepperidge Farm Cheddar Goldfish treats at 57 ppb, Streit's Lightly Salted Matzos at 182 ppb, and Wasa Original Crispbread Fiber Rye at 504 ppb.
The dried noodles in Kraft Macaroni and Cheese dinner had just 11 ppb of the contaminant, and Starbucks Coffee Columbia Ground (unbrewed) hosted 175 ppb. FDA found that unbrewed instant coffees sported more acrylamide—between 188 and 351 ppb.
Among dried soup mixes, the ranges varied more widely than among any other foods tested. Whereas many, such as Knorr Taste Breaks Soup Chicken Noodle Flavor and Lipton Asian Side Dishes Teriyaki Noodles came in at only 22 and 34 ppb, Super G Onion Recipe Soup mix had 90 ppb and Lipton Recipe Secrets Onion Soup & Dip Mix packed a walloping 1,184 ppb.
And let's not forget chocolate. FDA found that chocolate instant puddings and pie fillings had less than 20 ppb acrylamide, and Hershey's chocolate-milk mix and milk chocolate candy had no detectable acrylamide. But cocoa was another story. Although the survey turned up no acrylamide in a Droste product, Hershey's European Style Dutch Processed Cocoa had 58 ppb, Ghirardelli unsweetened cocoa mix contained 316 ppb, and Hershey's Cocoa (original formula) tipped the scales at a massive 909 ppb.
What to make of the numbers
"FDA's test results show two-thirds of the U.S. potato chip samples contain less acrylamide than levels found in the European samples evaluated [earlier this year] by the World Health Organization," notes Robert Tardiff, a former EPA toxicologist who is now a consultant to the Snack Food Association. As such, he argues, "There is nothing in these new data to suggest there is any kind of immediate health issue . . . [and] no reason to change dietary habits."
For its part, FDA cautions that its measurements are only preliminary. Too few foods in any category have been sampled to gauge likely daily human intake. Moreover, its numbers show that values can vary dramatically within and between brands.
Several months ago four research teams independently reported finding that heating-induced chemical changes of an amino acid in potatoes and other foods can create acrylamide (SN: 10/5/02, p. 213: Hot Spuds: Golden path to acrylamide in food). Concentrations of this amino acid—ordinarily a building block of proteins—can vary in a potato or other food, depending on the plant cultivar and even the environmental conditions under which it was raised.
This suggests that at least some of the variation in a product line's acrylamide concentrations might trace back to the quantity of the starting amino acid that had been present in a food's uncooked ingredients. Some share may also trace to the cooking temperatures and times. These features each influenced acrylamide development in the amino acid experiments.
But none of these data even start to indicate whether the concentrations of acrylamide now present in the human diet pose a risk to health at the amounts currently being consumed (SN: 8/24/02, p. 120: Cooking Up a Carcinogen). Such an assessment will probably require rodent-feeding trials with a range of intakes representative of different population groups. A few research centers are seeking funding to begin such studies.