A new map exhibit documents evolving views of Earth's interior
'Beneath Our Feet' chronicles how people have envisioned the subsurface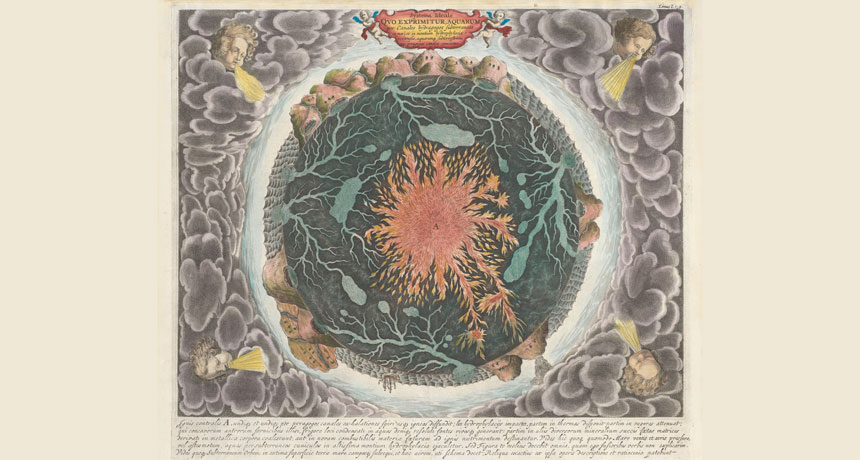 Much of what happens on the Earth's surface is connected to activity far below. "Beneath Our Feet," a temporary exhibit at the Norman B. Leventhal Map Center in the Boston Public Library, explores the ways people have envisioned, explored and exploited what lies underground.
"We're trying to visualize those places that humans don't naturally go to," says associate curator Stephanie Cyr. "Everybody gets to see what's in the sky, but not everyone gets to see what's underneath."
Science News headlines, in your inbox
Headlines and summaries of the latest Science News articles, delivered to your email inbox every Thursday.
Thank you for signing up!
There was a problem signing you up.
"Beneath Our Feet" displays 70 maps, drawings and archaeological artifacts in a bright, narrow exhibit space. (In total, the library holds a collection of 200,000 maps and 5,000 atlases.) Many objects have two sets of labels: one for adults and one for kids, who are guided by a cartoon rat mascot called Digger Burrows.
The layout puts the planet's long history front and center. Visitors enter by walking over a U.S. Geological Survey map of North America that is color-coded to show how topography has changed over geologic time. 
Subscribe to Science News
Get great science journalism, from the most trusted source, delivered to your doorstep.
Beyond that, the exhibit is split into two main themes, Cyr says: the natural world, and how people have put their fingerprints on it. Historical and modern maps hang side by side, illustrating how ways of thinking about the Earth developed as the tools for exploring it improved. 
For instance, a 1665 illustration drawn by Jesuit scholar Athanasius Kircher depicts Earth's water systems as an underground network that churned with guidance from a large ball of fire in the planet's center, Cyr says. "He wasn't that far off." Under Kircher's drawing is an early sonar map of the seafloor in the Pacific Ocean, made by geologists Marie Tharp and Bruce Heezen in 1969 (SN: 10/6/12, p. 30). Their maps revealed the Mid-Atlantic Ridge. Finding that rift helped to prove the existence of plate tectonics and that Earth's surface is shaped by the motion of vast subsurface forces.
On another wall, a 1794 topological-relief drawing of Mount Vesuvius — which erupted and destroyed the Roman city of Pompeii in A.D. 79 — is embellished by a cartouche of Greek mythological characters, including one representing death. The drawing hangs above a NASA satellite image of the same region, showing how the cities around Mount Vesuvius have grown since the eruption that buried Pompeii, and how volcano monitoring has improved.
The tone turns serious in the latter half of the exhibit. Maps of coal deposits in 1880s Pennsylvania sit near modern schematics explaining how fracking works (SN: 9/8/12, p. 20). Reproductions of maps of the Dakotas from 1886 may remind visitors of ongoing controversies with the Dakota Access Pipeline, proposed to run near the Standing Rock Sioux Reservation, and maps from the U.S. Environmental Protection Agency mark sites in Flint, Mich., with lead-tainted water.
Maps in the exhibit are presented dispassionately and without overt political commentary. Cyr hopes the zoomed-out perspectives that maps provide will allow people to approach controversial topics with cool heads.
"The library is a safe place to have civil discourse," she says. "It's also a place where you have access to factual materials and factual resources."
"Beneath Our Feet" is open through February 25. If you can't get to Boston, you can view a virtual walk-through online.