Readers respond to the SN 10, and awards for Science News
Your letters and comments on the October 1, 2016, issue of Science News
Science's human side
In "The SN 10: Scientists to Watch" (SN: 10/1/16, p. 16), Science News recognized 10 up-and-coming scientists across a range of scientific fields who will be answering big questions in the decades to come.
Barry Maletzky thought that highlighting 10 young scientists may have been unfair and detrimental to other researchers. "By drawing attention to just 10, I wonder if you are thereby discouraging others who may not make the headlines but whose basic research may lead the way toward important discoveries in the future," Maletzky said. He also pointed out that scientific progress is made "through the tedious and often under-publicized work of a number of investigators working barely noticed through the years."
It's true that in science journalism, as with all journalism, what you choose to cover can matter as much as how you choose to cover it, says Elizabeth Quill, Science News' enterprise editor, who led the SN 10 project. Science News editors and writers take this responsibility seriously, which is why Science News avoided terms like "top," "best" and other superlatives. Whenever possible, the names of mentors and collaborators were also included in the stories. "We recognize the dangers in calling out specific individuals, but we believe the rewards outweigh the risks," Quill says. "The majority of Science News focuses on the data and the process. But here we see a different side. We are showing science as a human endeavor. We hope this list inspires all young scientists to follow their passion and their curiosity. But we also hope to do what we do best — inform our readers about new and interesting science."
Kenneth Abate was disappointed by "The SN 10: Scientists to Watch" profiles and questioned how Science News chose the researchers. "The issue is probably a nice piece of advertising for the individuals to further their careers," Abate said. However, it "is of little value to the scientific community nor does it contribute to the knowledge bank of those scientists or would-be scientist readers."
And the prize goes to…
Science News' coverage of gravitational waves (SN: 3/5/16) recently won an award from Folio, a publishing industry magazine, for best series of articles in the science category. Tina Hesman Saey's feature on gene drives (SN: 12/12/15, p. 16) — a hotly debated technology that could wipe out invasive or disease-carrying pests — won for best single article.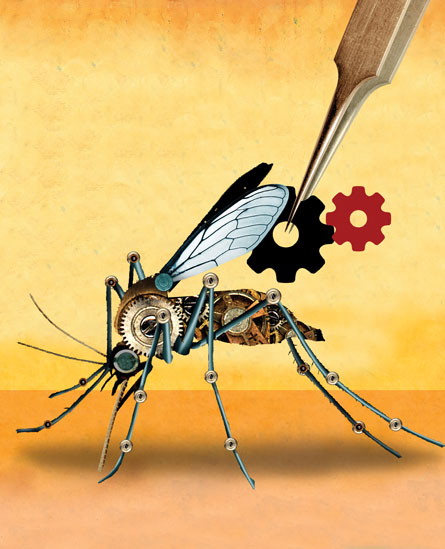 Choosing is never easy, but thankfully Science News staff didn't do it alone. Every featured scientist was nominated by a Nobel laureate or recently elected member of the National Academy of Sciences on the basis of the scientist's contributions to the field and promise for future contributions. As they do with any news or feature story, Science News editors and writers selected the final list of scientists by looking at who was doing novel, interesting and important work. As readers point out, the list could have easily been much, much longer.
Subscribe to Science News
Get great science journalism, from the most trusted source, delivered to your doorstep.
Cool it
The next big thing in high-tech clothing may be a plastic material similar to kitchen cling wrap that vents body heat, Meghan Rosen reported in "New fabric could make cool clothes" (SN: 10/1/16, p. 9).
Online reader Karl Chwe pointed out one potential drawback to the new material: "It is just a thin plastic film with tiny holes, and the holes aren't big enough to allow water vapor to escape easily, so it doesn't allow evaporative cooling," he wrote. Chwe suggested that it might be better to wear fewer clothes.
Actually, the nanopores are permeable to water vapor, the authors reported. "In this regard, the new fabric is comparable to cotton," Rosen says. "Without the nanopores, the fabric would be a literal sweat suit; it's completely nonpermeable." But even with pores, the fabric doesn't quite feel like normal clothes just yet. Weaving the fibers into a textile could help. Still, when it comes to evaporative cooling, Rosen says, wearing fewer clothes might be the simplest solution of all.
Correction
"A gut check gets personal" (SN: 10/1/16, p. 19) profiles Lawrence David, a computational biologist who studies the human gut microbiome at Duke University. David's wife is a psychiatrist, not a psychologist as was incorrectly stated in the article.